Featuring creations
by Spitzer Concepts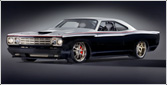 ROAD RATTLER – Jim Mitchell's 1969 Plymouth Road Runner. Look for a feature on this car in the March 2012 issue of Hot Rod Magazine.
---

Like us on Facebook!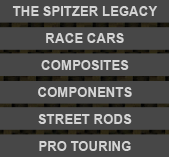 ---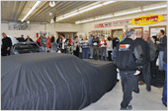 Road Rattler Revealed to Public on December 8 in Conjunction with IMIS Show in Indy
PERFORMANCE REPORT
---
| | |
| --- | --- |
| | Featured |
---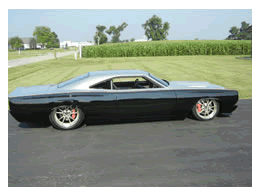 You SERIOUSLY have to check out this awesome new touring car built by our talented crew in our Spitzer Concepts shop! The 1969 Plymouth Roadrunner, which has been named "The Road Rattler," is owned by Jim and Scott Mitchell. We always knew that our talented individuals at Spitzer Enterprises could build more than dragsters! For more information on this sweet ride,
click here
or on the Roadrunner link at the left side of the page!
| | |
| --- | --- |
| | News From The Quarter Mile |
---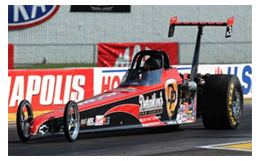 Bruno Massel's unique Spitzer-built I/Dragster was named "Best Engineered Car" at the U.S. Nationals, and also the No. 1 qualifier in Comp Eliminator.
---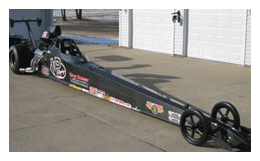 Spitzer-built cars have been dominating the Top Dragster action at Lucas Oil Drag Racing Series divisional events. Kudos to Phil Unruh for qualifying No. 1 at the Brainerd LODRS race (Division V) and winning Top Dragster. And out in Division VII, Joe Roubicek took home the Top Dragster honors at the Fallon, Nevada LODRS race. A tip of the helmet to James Monroe, Top Dragster winner at the Division III LODRS event in Joliet, Illinois.
---

A tip of the helmet to Ed Dudley for winning Top Dragster Eliminator at the Indy LODRS points meet. Five of the top six qualifiers at the Division III Opener were driving Spitzer cars. Kudos to Troy Stone (No. 1 at 6.07), Tom Elliott, Mark Harmon, our own Rick Forish, and Ed Dudley.
---

Congratulations to Michael Kile of Westlake, LA for being the No. 1 Qualifier in Top Dragster at the NHRA Spring Nationals in Houston at 6.00, 231.40 mph.
---

Congratulations to Matt Hartford for winning Competition Eliminator at the Phoenix LODRS event with his Mopar-powered B/DA. Matt also qualified strongly at the Arizona Nationals in Top Dragster.
---

Other Spitzer customers that made the Top Dragster field at the Arizona Nationals included Jon Bradford, Phil Unruh, Chip Rumis, Joe Roubicek, Chuck Hawk and Anita Olson. Congratulations!
---

Kudos to Larry Miersch for making it to the Top Alcohol Dragster finals at the NHRA Winternationals in Pomona. Larry's dad, Roy, was part of the team that won the first "Big Go West" back in 1961.
---

At the Stanton, Michigan divisional meet in July, Troy Galbraith nabbed top honors in Top Dragster, and Steve Mikus captured the top spot in Super Comp! Congratulations, gentlemen!
---

We have a winner! Marty Thacker captured yet another TAD trophy at the Norwalk Nationals! Shout out to Brandon Booher, who ran away with runner-up honors to Marty!
---

Again at Norwalk, Troy Stone led the charge to the finish line with a Top Dragster win! And a big congrats to our own Rick Forish for his Fast Four Saturday night win! Go Team Spitzer!
---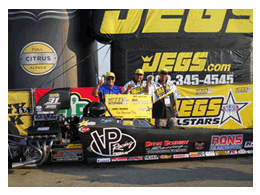 We all knew James Monroe was an All-Star! Just in case there are non-believers still out there, James snagged the Jegs All Star title in Top Dragster! Not only did he capture the winner's honors, he cut a .11 light n the finals with a "dead-on" 6.755 on a 6.75 dial in! Way to go, James!
---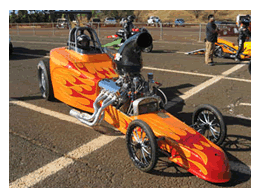 Bob Nascimento ran his '32 Bantam for the first time in June at Maui Raceway Park. They won the Summit Super Pro Class - in five rounds of eliminations, the car ran 7.80 to 7.84! Thanks to Bobby for the beautiful photo of the car - great job to you and your team!
---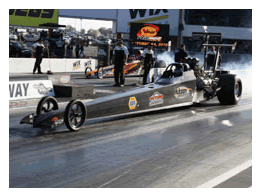 Melissa Hutson and her Top Dragster are hauling the mail! Hailing from Florida, they debuted the car late in 2010 with a string of #1 Qualifier spots. This year, Melissa has already picked up her second St.Pete Heads Up Madness win of the season! We're looking forward to watching Melissa's progress this season! Congratulations to the Hutson crew!
Outstanding performances
by our valued customers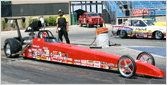 Congratulations to Marty Thacker (TAD), Greg Kamplain (Comp) and Michael Galofaro (Top Dragster) for their Norwalk, Ohio LODRS wins.
---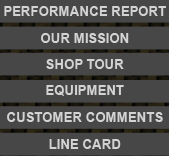 ---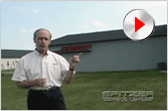 Video Tour of Spitzer Race Cars With Bob Frey