Featuring creations
by Spitzer Concepts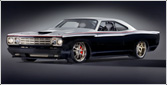 ROAD RATTLER – Jim Mitchell's 1969 Plymouth Road Runner. Look for a feature on this car in the March 2012 issue of Hot Rod Magazine.
---

Like us on Facebook!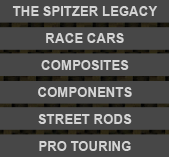 ---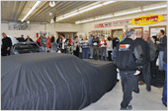 Road Rattler Revealed to Public on December 8 in Conjunction with IMIS Show in Indy
PERFORMANCE REPORT
---
| | |
| --- | --- |
| | Featured |
---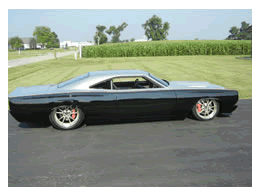 You SERIOUSLY have to check out this awesome new touring car built by our talented crew in our Spitzer Concepts shop! The 1969 Plymouth Roadrunner, which has been named "The Road Rattler," is owned by Jim and Scott Mitchell. We always knew that our talented individuals at Spitzer Enterprises could build more than dragsters! For more information on this sweet ride,
click here
or on the Roadrunner link at the left side of the page!
| | |
| --- | --- |
| | Indy Points Meet | Qualifiers |

---

Chris Smith #2
6.11 at 226 mph
Troy Stone #3
6.16 at 232 mph
Tommy Elliott #6
6.24 at 224 mph

John Tilford #8
6.41 at 208 mph
James Monroe #21
6.68 at 201 mph
Pascal LeCompte #25
6.70 at 202 mph

Troy Galbraith #26
6.71 at 205 mph

---

Hope you enjoy our gallery of qualifiers at the Indy points meet! Not pictured is Mark Harmon, who was 16th qualifier at 6.66, 153 mph. James Monroe advanced to the semi-final before getting beat. However, James will be the division 3 top dragster representative! Congratulations, James!
---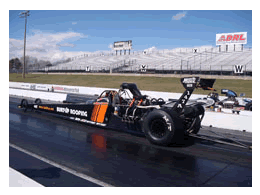 Thanks to Mike Griffin for sending us a photo of his car! Mike qualified #1 at Virginia Motorsports Park in April at the All Out Extreme 4.10. His qualifying time was 4.161; Mike broke out in the semi finals with a 4.08 on a 4.10 dial. Mike, his wife Cindy, and their team are based in Kensington, Maryland.
---
Blake Alexander, driving Larry Miersch's A Fuel dragster at the Houston Nationals qualified in the 8th spot and reached the TAD semi-finals! Great job!
---
Chip Rumis wins the Vegas points race in his new Spitzer top dragster! Nice effort, Chip!
---
Mark Jones won top dragster at the Jegs SportsNationals in Baton Rouge, LA. Congratulations to Mark and his team on his win!
---
...and we're off! Results from the Gatornationals in Gainesville put Spitzer customers in the spotlight early! Jerry Powell defeated #1 qualifier Duane Shields in the first round of Top Alcohol dragster. Jerry was then matched up against fellow Spitzer car owner Michael Manners in the second round - Michael won that battle, only to lose the next round. Congratulations to both Michael and Jerry! Great start to 2011... Fausto Filho and Sidnei Frigo qualified #7 at the Gators in Top Alcohol dragster - we're looking forward to seeing more of them this year! Meanwhile, Steve Mikus advanced all the way to the fourth round of competition in Super Comp! Continued great work by the Mikus team, as they pick up where they left off last season!
---
Whoops! Where's the old performance report from the 2010 season? No worries - click here!
---
Click here to view pictures from our 40th anniversary open house!
Outstanding performances
by our valued customers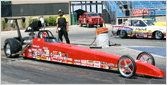 Congratulations to Marty Thacker (TAD), Greg Kamplain (Comp) and Michael Galofaro (Top Dragster) for their Norwalk, Ohio LODRS wins.
---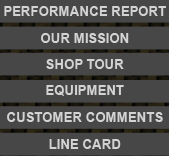 ---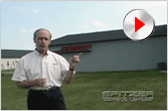 Video Tour of Spitzer Race Cars With Bob Frey