Webster's defines "legacy" as "something handed down from one who has gone before." In Mike Spitzer's case, that legacy came in the form of a love for automobiles and racing, as well as an affinity for building things. The "torch," fittingly enough, was handed to Mike from his dad, Ed, who was an extraordinary craftsman and campaigned Midgets throughout the Midwest in the '40s and '50s.
By the time Mike was 12-years-old he was a certified gearhead. His first car was a 1949 Chevy, which he promptly set about modifying. He attended the first NHRA Nationals to be held in Indianapolis in 1961 and dreamed about someday owning a racing team and participating at Indy. Ultimately, the dream came true.
In 1971 Mike built a unique rear-engined C/Dragster in his home workshop. This was at a time when rear-engined cars were just starting to appear in Top Fuel and nobody thought the concept valid for a smaller Competition Eliiminator car. Mike and his brother, Jim (who drove), promptly went out and set the NHRA National Record for E.T. and speed, igniting the rear-engined revolution in the Sportsman ranks. Other racers, impressed with Spitzer's trend-setting designs, sought to have him build cars for them, and for the next decade Mike did double-time as a vocational instructor (auto body) during the day and a race car builder in the evenings.
The demand for Spitzer's cars grew and Mike was forced to decide whether to devote his full energy to building race cars or stick to teaching; he couldn't keep doing both. Obviously, racing won out, And the rest, they say, is history.
After outgrowing several leased shops, Spitzer Enterprises found a permanent home in the eastern Indianapolis suburb of Greenfield. The facility has expanded several times over the years and now encompasses some 30,000 square feet.
Just as Mike had been infused with race cars from his dad, Ed, so was the case with Mike and Karen Spitzer's son, Dean. By the time he was 12-years-old, Dean was helping out in the shop. It was quite evident that Dean would follow in his father's footsteps. In addition to learning the fabricating side of the business, Dean studied Mechanical Engineering at Purdue University.
In the late 1980s Spitzer Enterprises fielded a 4-car team, fulfilling Mike's boyhood dream. Dean, driving a unique Super Comp dragster was part of the team, as were noted TAD campaigner Keith Stark and Comp standout Wayne Henderson. Tragically, Dean died in a highway accident in 1989. The building that houses the composites shop was named "Deanco" in his honor.
The family aspect of the business stayed true, as Mike's wife, Karen, joined the firm full time in 1990 and their daughter, Sherri Blackburn, came aboard in 1999. They remain active through this day. Rick Forish, a long-time family friend and racer, signed on as General Manager in 2007.
Many years ago Mike recognized the many benefits of carbon fiber components and how they would enhance the competitiveness and safety of Spitzer Race Cars. So he set about manufacturing components in an entity now known as Spitzer Composites. As a sidenote, Mike has spent considerable time in the wind tunnel testing both bodies and components, with Spitzer Composites benefitting from this expertise.
The products manufactured in the composites shop range from complete bodies down to nose pieces, air scoops, wings and ducts. And you'll find components for IndyCars, boats and Bonneville cars being produced at Spitzer Composites as well. The shop's processes include vacuum bagging, oven curing, pre-preg carbon fiber and autoclave curing.
Over the years a number of specialized street vehicles have come out of the Spitzer Enterprises shop, and the demand has increased to the point where Spitzer Concepts was created for this side of the business. The two go hand-in-hand, with no better example than long-time customer Paul Romine.
Not only did Spitzer build Romine an IHRA Championship-winning Top Fuel dragster, and most recently the "Man O' War" Nostalgia Funny Car (itself winner of two DRO Championships), but the cars that thundered down the track have been joined by a radical Viper V10-powered '34 Ford coupe, a gorgeous 1957 T-Bird with modern enhancements, plus a neat 1956 Ford F100 pickup.
Spitzer Concepts is also responsible for building the unique "Indy Boat Tail" roadster, which was featured in Street Rodder magazine, the distinctive "Ed's Garage" 1927 Ford track roadster that paid homage to Mike's dad, and Bill Holland's AMBR Contender "23-GT" track roadster that was featured in Hot Rod magazine. The most recent Spitzer Concepts creation to grace the pages of Hot Rod was Jim Mitchell's "Road Rattler" Plymouth Road Runner, a car that blends awesome performance and handling with a sleek body that features carbon fiber panels and CNC-machined billet aluminum trim.
Needless to say, the Spitzer Race Cars side of the business has likewise been turning out award-winning creations like the two-time U.S. Nationals-winning TAD of Marty Thacker and 2011 IHRA Pro Nitro Champion "Shredder" of Michael Manners. Many of the nation's leading competitors in the Top Dragster category rely on Spitzer cars, and the firm supports the Series in NHRA's Division III.
Over the years numerous accolades have been bestowed upon Mike and the company. These range from many "Best Engineered Car" and "Best Appearing Car" awards for customers to several "Sportsman Chassis Builder of the Year" from Car Craft magazine's fabled All-Star team. The company has often been named NHRA Division III's "Best Supporting Manufacturer" and Mike himself named "Person of the Year in 2007." His life-long contributions to the sport also earned Mike a spot in the NHRA National Hot Rod Reunion Hall of Fame.
As Spitzer Enterprises enters its fifth decade, the company can point with pride at over 5,000 cars coming out of the shop to date. Each car represented a commitment to provide the customer with a quality product that embodied performance and safety. The term "Trend Setter" still applies today, as Mike Spitzer and his team of talented craftsman remain focused on employing cutting edge technology. It's all part of "The Spitzer Legacy."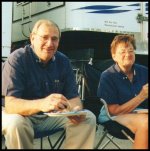 Here's Mike and Karen Spitzer taking a break at one of the many events they attend.
---