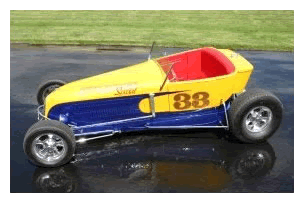 Our first in-house street rod project has been a smashing success! The Spitzer Concepts 1927 track roadster has been featured in Street Rodder and Street Rod Builder magazines, and won many accolades and awards for its sleek styling and driveability. The track roadster has a great story behind it - Mike's father, Ed Spitzer, used to race a midget car with the identical paint job and number 33. The midget was named "Ed's Garage Special" because it was entirely constructed and maintained at Ed's home in the garage.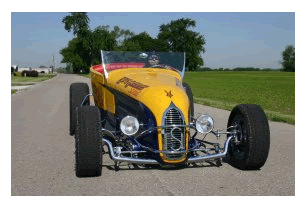 When Mike designed the track roadster paint scheme, it was with his father in mind. As for Ed, he really loves the car and finds the tribute from his son a reflection of their relationship.
The track roadster was completely designed and built on location at Spitzer Enterprises, and features a custom grille, friction shocks, a stainless steel exhaust system and a fabricated rearend housing with a false quick-change cover. The car also contains a Schroeder sprint car steering box, Wilwood front and rear disc brakes, a Chevy V-8 350 engine, and a 700-R4 automatic transmission.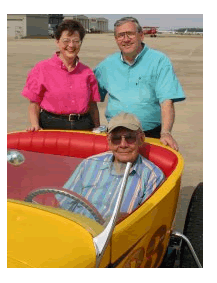 With the bold red leather interior by Larry Sneed of Louisville, Kentucky, Mike and Karen rarely get lost in the crowd when they go to the local Friday night cruise-ins.
For more information about this track roadster, or about building your own, please contact Mike Spitzer!