Featuring creations
by Spitzer Concepts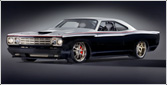 ROAD RATTLER – Jim Mitchell's 1969 Plymouth Road Runner. Look for a feature on this car in the March 2012 issue of Hot Rod Magazine.
---

Like us on Facebook!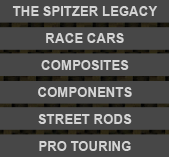 ---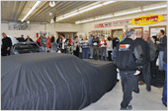 Road Rattler Revealed to Public on December 8 in Conjunction with IMIS Show in Indy
Nostalgia Funny Car Includes:
---
* 125" Wheelbase
* Fully Fixtured, Heli-Arc Welded 4130 Chrome Moly Chassis
* Six Point Roll Cage with Head Restraint Tubing (Meets SFI Specs 10.1E)
* Bolt-On Front A-Arms
* Strange Adjustable Aluminum Spindles
* Seat Belt Mounts
* Quick Release Steering Wheel Hub - S.F.I. Approved
* Aluminum Steering Wheel
* Sector Type Steering Box
* Steering Drag Link and Tie Rod with 4130 Chrome Moly Rod Ends
* Chassis Top Rail Drains
* Burn Down Chassis Tubes - Front and Rear
* Chassis Slots and Line Tabs
* Aluminum Front Motor Plates - One Pair
* Aluminum Rear Motor Plate
* Aluminum Rearend Mounting Plates - One Pair
* Anti-Rotation Mount for Rearend with Mounts for Parachute Anchors
* Front Weight Box
* Pro Jack Tabs
* Oil Filter Mount
* Coil Mount
* Aluminum Brake Handle with Fire Bottle Lever
* Strange In-Line Dual Master Cylinder and Reservoir
* Brake Hard Lines Plumbed Through Chassis
* Aluminum Fuel Shutoff Lever and Mount
* Aluminum Air Bottle Clamp and Mount
* Fresh Air Bottle Clamps and Mount
* Throttle Pedal Assembly and Mount
* Adjustable Throttle Pedal Stop
* Fire Bottle Mounts and Linkage
* Fire Bottle Hard Lines Plumbed Inside Chassis Rails
* All Cables and Hardware
* Blow Back Struts - One Pair
* Custom Aluminum Seat
* Chassis Exterior Tin Including Engine Belly Pan
* Bellhousing Shroud
* Steering Column and Mount for Dashboard
* Grade 8 Hardware Installed on Assembly of Car
* Meets NHRA Rules and SFI Specifications
* Manufacturer's Identification Plate and Serial Number on Chassis
* Owner's Identification Plate on Car
---
Base Chassis Price $20,000 USD
*Note: This base chassis can be used for either Top Alcohol Funny Car or Nostalgia Nitro Funny car. From this base chassis, you may add body options, interior tinwork, safety equipment, rearend housings and bolt-on components to suit your particular application. Please call Mike Spitzer for a complete list of options available for funny cars.
Outstanding performances
by our valued customers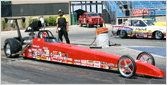 Congratulations to Marty Thacker (TAD), Greg Kamplain (Comp) and Michael Galofaro (Top Dragster) for their Norwalk, Ohio LODRS wins.
---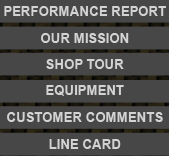 ---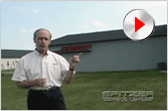 Video Tour of Spitzer Race Cars With Bob Frey