Featuring creations
by Spitzer Concepts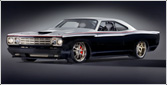 ROAD RATTLER – Jim Mitchell's 1969 Plymouth Road Runner. Look for a feature on this car in the March 2012 issue of Hot Rod Magazine.
---

Like us on Facebook!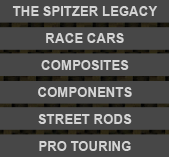 ---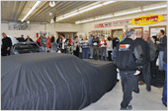 Road Rattler Revealed to Public on December 8 in Conjunction with IMIS Show in Indy
Competition Eliminator Dragster Includes:
---
* Fully Fixtured, Heli-Arc Welded 4130 Chrome Moly Chassis
* Wheelbase – Owner has Several Options
* Slip Tube Chassis with Six Adjustable Locations for Tuning to Track Conditions
* 9" Fabricated 4130 Chrome Moly Rearend Housing
* Anti-Rotation Mounts on Rearend Housing
* Entry / Exit Handles On Roll Cage
* Taillight Mount and Taillight
* Master Shutoff Mount and Master Shutoff Switch
* Engine Restraint Ring and Restraint Tubes Installed with 3/8 Rod Ends
* Streamline Front A-Arms with 2" Stagger
* Spindles with Arms
* Rack & Pinion Steering Box
* Aluminum Tow Hooks (Bolt on Top of Spindles)
* Tie Rods with Chrome Moly Rod Ends
* Aluminum Steering Wheel with Grips
* Steering Shaft with Restraints and Bushings
* Quick Release Steering Wheel Hub – S.F.I. Approved
* Throttle and Brake Pedals
* Adjustable Throttle Pedal Stop
* Master Cylinder for Brakes
* Carbon Fiber Floor Pan
* Carbon Fiber Driver's Seat
* Aluminum Front Protection Plate (Ahead of Driver's Feet)
* Rear Protection Plate - .125 7075-T6 Aluminum (Behind Driver's Head)
* Carbon Fiber Dashboard with Gauge Holes
* Carbon Fiber Cover over Gauges
* Integral Seat Belt Mounts
* Front and Rear Motor Plates (.125 6061-T6 Aluminum)
* Weld-On Rear Motor Mounts
* Saddle Type Front Motor Mounts
* Windscreen – Clear
* Battery Mounting Plate and Hold Down – Owner has Several Options
* Parachute Mount; Anchor; Release Handle
* Cable Mounts for Throttle and Parachute
* Shifter Mounts
* Front and Rear Weight Box Mounts
* Brake Line Bulkhead Mount Tab
* Carbon Fiber Full Body – One Piece from Front A-Arms to Back of Shoulder Hoop. One Additional Panel per Side from Shoulder Hoop to Rear Tires. Body Mounts at Front and Rear in 4 Places
* Carbon Fiber Nose Piece Mounted with Full-Bore Quick Release Fasteners
* Carbon Fiber Square Air Ducts in Top of Body, Ahead of Foot Box
* Multiple Ground Tabs Installed on Chassis
* Lightening Package
* Wiring Slots Installed in Chassis
* Carbon Fiber Computer Access Door
* Grade 8 Hardware on Assembly of Car (Titanium Hardware Optional)
* Manufacturer's Identification Plate and Serial Number on Chassis
* Owner Identification Plate on Car
---
Base Car Price $16,500 USD
Outstanding performances
by our valued customers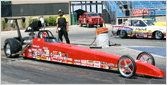 Congratulations to Marty Thacker (TAD), Greg Kamplain (Comp) and Michael Galofaro (Top Dragster) for their Norwalk, Ohio LODRS wins.
---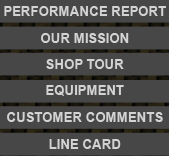 ---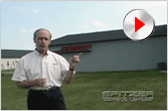 Video Tour of Spitzer Race Cars With Bob Frey